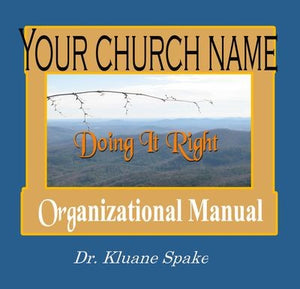 Indispensable MINISTRY HELP   EBook

Doing it Right — COMPLETE CHURCH ORGANIZATIONAL MANUAL
DOING IT RIGHT EBOOK that you can personalize for yourself

What you need to know to start organizing your Church Structure with a SPIRIT OF EXCELLENCE. Many extremely successful churches have used this information.

CONFIDENTIALITY AGREEMENT.

What makes your church unique? DETAILED JOB DESCRIPTIONS. EXAMPLES OF Internal and External Outreach, Vision, CONFESSIONS, PURPOSE. GENERAL Courtesy and Expectations, Sample ARTICLES OF INCORPORATION. The BOARD of trustees job. Sample board meeting notes. SENIOR LEADER'S Job Description. Personal PLANNING AND GOALS. ELDERS Detailed Job descriptions. ELDERS MEETINGS – Procedure. PULPIT MINISTRY. MINISTER'S COVENANT. Ministry outside of The Church – Agreements. Ministers and the press. Ministry staff agreements. ASSISTANT Job Description. Ministry Staff responsibility. LEADERSHIP MEETINGS. Monthly Check List For LEADERSHIP Meeting. LEADERSHIP MEETING EXAMPLE. ALTAR WORKERS job description
DEACONS Job Description, COMMUNION Procedure, Baby Dedications, SOCIAL DIRECTOR Job Descriptions. CATCHERS Job Description. USHERS Job Description. Home Meeting Love-Net LEADER Set Up. Hospitality table Job Description. FOLLOW-UP MINISTRY Job Description. Letter to the newly saved. GREETERS Job Description. SUNDAY SCHOOL. CHILDREN'S CHURCH. Supervisor of children's church Job Descriptions. INSTRUCTIONS FOR CHILDREN'S CHURCH COORDINATORS. Nursery teachers job description. Form for nursery door. Schedules.

SINGLES LEADERS Job Descriptions. MUSIC MINISTRY Job Descriptions. CHOIR DIRECTOR Job Descriptions. GIFTS OF THE SPIRIT. OFFERING Procedures. CLOSING THE SERVICE – requirements. OUTREACH COORDINATOR. EVANGELISM/evangelist. WEDDING form and Sample Service. FUNERALS and Sample Service. NEWSLETTER, BULLETIN, SIGNS, & ADVERTISING PERSONNEL Ideas and Job Descriptions. Bulletin Board. Street sign. Announcements, Details on How. Testimonies. SOUND DEPARTMENT Job Descriptions. Tape ministry Job Descriptions. Vehicles. FINANCIAL ADMINISTRATOR Job Descriptions. Request for disbursement of funds
SECRETARY. SCRIPTS. BOOKSTORE Job Descriptions. Sample contents for Welcome brochure. Ideas for church fliers or membership booklet. Tenets Of Faith. INTERCESSORY PRAYER GUIDELINES. APPLICATION FOR EMPLOYMENT. DISAGREEMENTS. MEMBERSHIP CONTRACT. THE CHURCH MEMBERS RESPONSIBILITY. PROCEDURE FOR RECEIVING MEMBERS INTO FELLOWSHIP Christian School. GENERAL SCHOOL EMPLOYEES' PROCEDURES MANUAL. SALARIES. DISCIPLINE. CONDITIONAL USE APPLICATION FORM Example. And sooo much more.

BUY E-BOOK $97.00