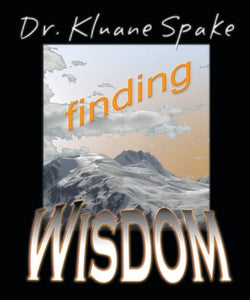 Finding Wisdom
Dr. Kluane Spake
PAPERBACK

MANY PEOPLE CHOOSE THIS BOOK AS THEIR FAVORITE! It explains how the understanding of Scripture must change.

The real challenge in life is finding wisdom. But… what is wisdom really? There are many books about wisdom, that never help you move forward.
Where is the future Church going? It must go toward wisdom.
This book guides the reader into a committed passion to build a life of optimum purpose.
Finding Wisdom should be a primary goal in life.
The Bible is full of spiritual wisdom ideas. Learn how this can provide specific direction for your real-world questions!

'I am working through this book for the second time. I say 'working through', because it has engaged me in contemplation, meditation, and study through which I am excavating the many rich jewels found in this work. It is a scholarly work with many layers of knowledge, wisdom, and understanding, all of which are attainable by the Holy Spirit. The Holy Spirit is guiding me through the many rivulets of Revelation flowing through this powerful book. If you want to understand purpose, destiny, and your place in this world and in the Church, this book is for you! ' Rev. Paul Wolak
In this practical guide, you will discover how to access God's divine wisdom for any and every situation.
But most importantly, she shows how believers like you can understand more about the Finished Work and how it is finished for you. Applying the wisdom of the Finished Work is the best way to find success in your Christian life. It is the optimum way to pray and to get your prayers answered!
Definitions of wisdom abound. Here, we show you lots more than the exclusive domain of theology and philosophy, but how Finding Wisdom brings HAPPINESS!
This book is written for those who are forward-thinking REFORMERS — Christian Leaders, and entrepreneurs — who want to understand the original INTENTION of Scripture and to know how to use these imperative Biblical Truths in actionable and applicable strategies– right now!
"Our Godly inspired effort is the natural outcropping of a sincerely planted seed. We need to act upon God's directions. Remember, we labor WITH God and not FOR Him. He's our life-source on earth. He alone is omnipotent and divine. The Holy Spirit allows us to hook arms with the Lord and walk toward our common goal in true synergy – the sum total of the whole becoming greater than the sum of its parts. Synergistic living is birthed from the passionate longing to know and understand God's will for your life.
The reason most of us begin to find life boring or meaningless is because we have not determined God's ultimate goals or purposes toward which we can aim our lives. There's a lack of meaning. When we live only for today, then today can become unendurable. When each day is lived to the fullest, we experience the catalyst dynamic of fulfilling purpose."
Happiness is a state of mind that is filled with positive thoughts of internal contentment from abiding in that fixed upright order.
You'll find answers interactively addressed.
You will understand 3rd Day!
1 Reaching Your Potential: It's finally time: Your talents: Prophetic vision: The Rampart Vision: 1The Prophetic VISION of the House of God: 
How awesome is this place: 
Passionate Desire: 20 Diligence: Wise Decisions: 25 Cautions to Remember: 27
2 Wisdom Builds the House: 
What Wisdom Does & Says: Wisdom's Two Sides: Building our "Sure House:" Dimensions: 
The blueprint: Building to finish: That house: Boundaries: Building to finish: Wisdom's actions: Terms for wisdom:
3 The 1st step—Fear: 
The House of Godliness: 
Foolish people don' t fear: The house itself: 
Two minds, two wives:
4 The 2nd Step—Knowledge: 
Learning How to "Get wisdom:" 
Knowing God was lost: 
The devil' s plan: 
The Carnal Mind Doesn't Know: Mastery over Ungodly Activities: 
Accurate knowledge creates the furniture for your house:
5 The 3rd Step—Understanding: 
Establishing the House: 
Living Foolishly: The Ability to Understand Comes into the Soul: Essay: All Three:
6 The 7 Pillars of Wisdom: 
The Structure of the House: 
The 7 pillars: A review of Wisdom's dinner: