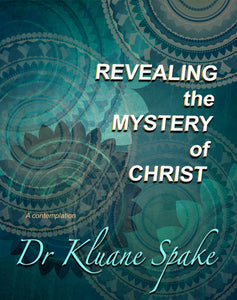 Revealing the Mystery of Christ By Dr. Kluane Spake

The question we must begin with is, Who is Christ?
I thought I knew... after preaching my whole adult life... but what if I LOOKED AGAIN?
Is Jesus the same as Christ? Understanding this demands that we re-examine our theology about Who is God? Where did our ideas come from? This study is very contradictory.
This idea has engaged me... Who is Christ? As Paul said, Christ is the Mystery - and an ever-revealing one at that. This revelation can change your life every day!
Jesus' last name was NOT Christ!
Examining the meaning of the title "CHRIST" expands our understanding of Who God is and Who Jesus is and was.
The concept of Christ being a great mystery is now revealing.