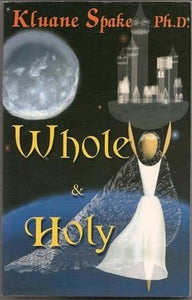 Whole & Holy -
POSTAGE PAID IN USA
I PROMISE… this book will help you!
"I bought EVERY SINGLE "Whole and Holy" book in the entire bookstore! – Yes, I did! The Lord just spoke to me about buying them ALL and giving them to the members of my church. We studied that book for a long time and grew tremendously. Then, later, I met Dr. Kluane, what a miracle! I felt like I had always known her." Evangelist Gloria Gainor ..
This book will help YOU!
It is all about soul realm healing… It is one of my best written books — I know you will love it!
Whole and Holy stands alone – dynamically and practically guiding the reader into an ardent passion for holiness. For without holiness, we cannot see God (Heb. 12:14). Whole and Holy reads with the artfulness of a wordsmith. It guides the reader into an ardent passion for presence. Discussions and interactive lessons to address your problems with sound and balanced teaching.